Apacer Introduces AC531 Portable Hard Drive with Duo Protections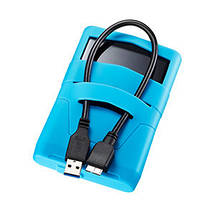 a. Sturdy Cover Built Against Shock and Dust
Constructed to shield the data stored, AC531 is encased in an exclusively designed rubber material for superior         shock absorption. All corners of this 2.5-inch double protection hard drive are rounded for increased safety, while a   1-meter fall will not affect the normal use of AC531. The entire unit is constructed to be dustproof at IP5X grade,       with thorough rubber coverage at the exterior and a seal at the USB socket, which effectively blocks dust intrusion   that might cause damage.
b. A Blazing Read/Write Speed at 125MB/s with SuperSpeed USB 3.1 Gen 1
A vibrant color combination with blue and green embellishes AC531 with a lighthearted, sporty mood. The front face bears a shield-shaped emblem to symbolize technology and security, while numerous engraved triangles adorning this design characterizes the unit with its forte: a marvelous speed at 125MB/s, enabled with USB 3.1 Gen 1. The meticulous design even made room for the cable; the users can rest assured that a cable can be tucked into the given space, always available to use as needed.
c. Mega Size Storage up to 2TB at Lightweight Portability
Available in 500GB, 1TB, and 2TB, AC531 supports the Plug & Play function and can easily handle large files like 4K videos, multimedia files, and various documents; it is also a perfect booster for ultra-thin laptop computers, which usually have limited memory storage. A reassuring 3-year warranty is in place guarantee the best of storage experience for all users.
 Sources : https://consumer.apacer.com/eng/news_info.html?sn=56