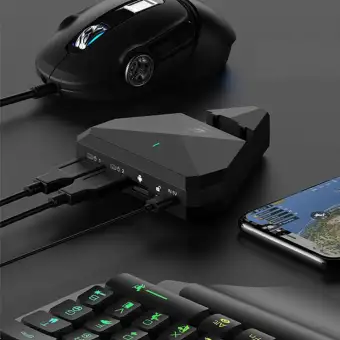 a.[Broad Compatibility] Applies to most Android phones and tablets. (not including keyboard or mouse)
b.[Customize Mapping] Customize keyboard button settings according to your preferences, support button combinations, auto triggers and one-click macros. Significantly improve your victory by better controlling everything from quick aiming, ignition, spraying and more.
c.[Enjoy the game] Easily connect your phone via USB or Bluetooth, allowing you to control your shooting or against mobile games with your own keyboard and mouse, such as the for Arena of Valor / Knives Out and other Android systems.
d.[Lightweight and ultra-thin] Easy to carry bags, ideal for travel and other outdoor activities, bringing you a convenient gaming experience.
e.[Ergonomics Gesign]The groove base and 65 degrees holder design, is in accordance with the game angle of use scenarios.
Sources : https://www.lazada.com.my/products/kobwa-g5-pubg-phone-gaming-assisted-adapter-mouse-and-keyboard-converter-pugb-shooting-for-iosandroid