AVF Gaming Freak X series 6D Laser Gaming Mouse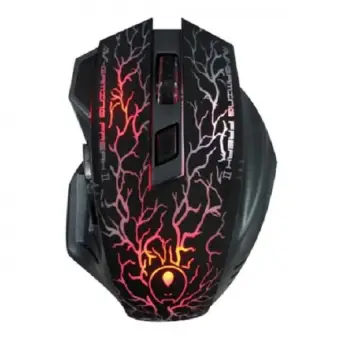 Specifications
Colour: BLACK
No. of Buttons: 6
Dimension: L124 x W74 x H36mm
DPI: 3000
Sensor Type: LASER
Gold Plated USB: Yes
USB Cable Length: 1.8m braided
Weight-in Design: Yes, Built-in
Key Life: 5 Million times
Color Options:
Illuminated, 7 colours cycling effect
Features:
~ Instant DPI adjustment in 800/1200/2400/3000 for FPS or MMORPG games.
~ Mute Button: silent death mouse button design to avoid annoyance.
~ Last Page Hotkey: for instant access to last page with no software needed.
~ Uniques illuminated light design to build up the gaming atmosphere.
~ Rubber coating coverage to ensure strong hand grip in game control.
~ Smooth & Precise Tracking: the superior laser sensor tracks movement at 5.5 mega pixels per second.
~ Extra weight built-in for gamer to adjust the mouse for perfect handling.
~ 100% enamel copper wired USB cable performs faster & stable electronic signal transfer rate.